ARF Bureau Member Hagop Der Khatchadourian's Remarks at Armen Garo Statue Unveiling in D.C.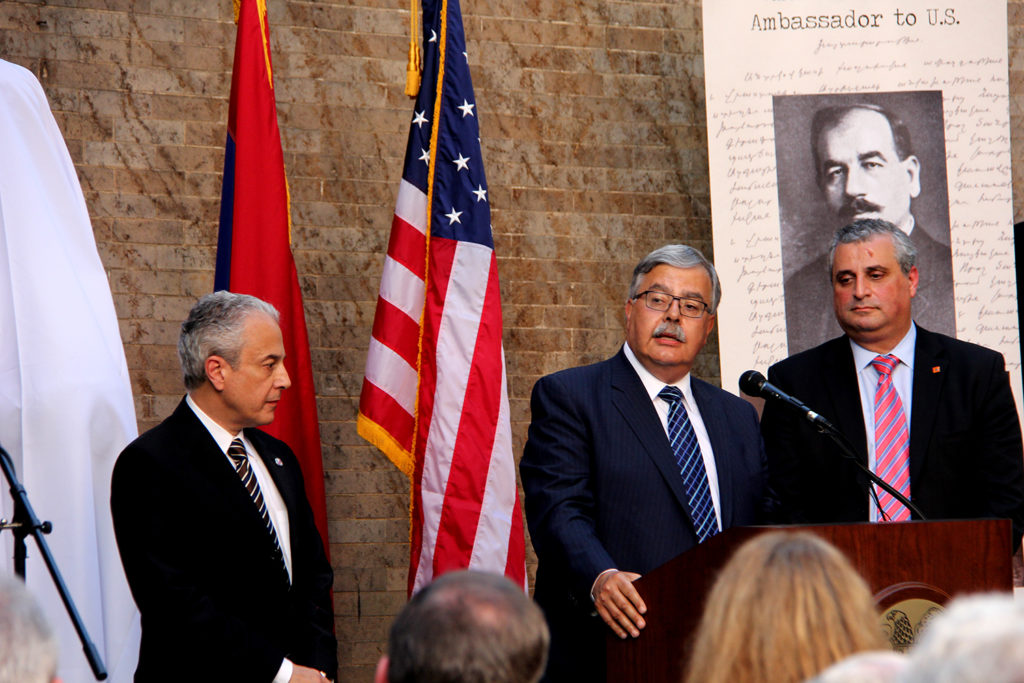 WASHINGTON—The following are remarks delivered by Armenian Revolutionary Federation (ARF) Bureau member Hagop Der Khatchadourian on June 28, during the Republic of Armenia Centennial celebration at the Armenian Embassy in Washington D.C. At the event, the unveiling of Armen Garo's (Garegin Pastermadjian) bust took place. Pastermadjian served as the first ambassador to the U.S. from the First Republic of Armenia between 1919 and 1920.
Below are his complete remarks. Parts of the address, which were originally in Armenian, were translated by the Armenian Weekly.
***
I would like to congratulate us all on the 100th anniversary of the independence of Armenia. May 28 doesn't simply denote independence, but also represents the embodiment of a miracle: the resurrection of Armenian statehood after only three years of the start of the greatest tragedy in its history, the Genocide of Armenians meticulously planned and executed by Turkish governments from 1915 to 1923.
There is no greater date in modern Armenian history comparable to that miracle which brought back Armenian independent statehood after more than five and a half centuries under various harsh foreign rulers. There are no greater feats than the heroic victories of our nation, under the leadership of Aram Manoukian, upon the battlefields of Bash-Aparan, Gharakilise, and Sardarabad. The Ottoman Turkish forces that marched to Eastern Armenia to administer the final blow in Turkey's plan to exterminate a whole nation, withdrew against a resistance of far fewer combatants who had summoned superhuman strength in this life or death battle… And the phoenix rose. Armenia returned to the global family of nations, as a free, independent, and progressive republic.
From the shapeless chaos of those days, a reborn Armenia emerged.
The first major achievement of this Armenia was the establishment of a progressive state that provided a homeland to all Armenians, that built the pillars of a modern state on the best values of humanity, and that rekindled hope in its people. A people oppressed, tortured, dispersed, murdered, collectively crushed but never losing its national will to survive and contribute to world civilization. A people that saw in the newly adopted tricolor flag and the Mer Hairenik National Anthem a source of hope and determination.
The second important characteristic was the return of the national identity to an Armenia whose population was oppressed and dispersed within the confines of two empires that deliberately sought to either eliminate or numerically reduce the presence of ethnic Armenians on their own land. The first Republic built the Armenian character of the new state, welcomed thousands of genocide survivors fleeing Western Armenia, and in one year proclaimed the establishment of a unified Armenia—a first step in our cherished dream of a free, independent, and united Armenia.
And the third was its commitment to social justice. Even during those difficult days of war, poverty and disease—when our very survival was at stake—our leaders of that time did not shy away from addressing as well the social, economic, and cultural needs of the people, through progressive policies and laws that brought us pride and worldwide recognition. The Yerevan State University was established in 1919; Armenian women obtained the right to vote thus making Armenia one of the first nations in the world to establish true equality; and reform was instituted—individual, collective and minority rights were established—and national symbols were adopted to solidify Armenia's new identity and vision.
It is, for me, a joyous occasion that during this centennial celebration, we will also unveil the bust of Armen Garo (1872-1923). On behalf of the ARF, I would like to extend our gratitude to the Ambassador for granting us the opportunity to work together to install this permanent symbol at the Armenian Embassy—on Armenian land. And how fitting and symbolic, that this permanent fixture is the statue of none other than Armen Garo—the first Armenian Ambassador to the U.S. Garo is one of the best representations of the dedicated leadership of the time: a national hero, a leader of the national liberation movement, and a diplomat.
Armen Garo was a brilliant mind—a doctor of chemistry by profession—who dedicated his life to serve the Armenian People. Garo participated in the Zeitun uprising; helped organize the seizure of the Ottoman Central Bank; was sent to do fieldwork in France and Turkey; participated in the Armeno-Tatar War; organized the defense of Tiflis; served as a member of the Ottoman parliament for four years following the 1908 constitution; was the leader of the Armenian reforms; an organizer of Armenian volunteer units; one of the leaders of the Defense of Van; one of the principal organizers of Operation Nemesis; and of course, the Armenian Ambassador. A life stretched over 51 short—but meaningful—years, that was cut short following a heart attack in Switzerland.
And in a moment, we will eternalize Armen Garo's memory in Washington D.C.
A special thanks to the talented sculptor, Dr. Megerditch Tarakdjian, and architect Aram Aladjajian, who kindly took on this project and unger Zohrab Tazian, who is one of the godfathers of this project and his represented today by his granddaughter Armine. Thank you, also, to all near and far, who made this project a reality.
As a Diasporan Armenian who is immersed into the everyday life of Armenia and Armenians worldwide, who, like many others, relishes in the successes of the homeland and is saddened by its shortcomings, who is not a simple observer of events but a participant in helping Armenia achieve its potential and solidify its statehood and who aims to build bridges between the motherland and various communities of Armenians dispersed by fate and history, I look upon May 28 as the major signal of the collective potential of our nation to achieve greatness.
For over 27 years, our newly independent Armenia struggled to reach its potential of becoming that ideal homeland which we had all dreamt about and built in our minds and souls throughout the long years of Soviet rule.
Armenia's successes are our collective successes as a dispersed nation and, similarly, Armenia's failures are our collective failures. Now, reinvigorated by a new burst of optimism and democratic values, we have the potential of multiplying those successes and minimizing—hopefully even eliminating—its failures. Now we have the golden opportunity of doing our part in helping Armenia, together with Artsakh and Javakhk, not only to survive, but to prosper through hard work, dedication, resilience, and the well-deserved Armenian proclivity for creativity and innovation. This is our national, collective task, and failure is not an option.
Thank you, Mr. President, for honoring us with your presence on this auspicious occasion and thank you, Mr. Ambassador, for organizing this important celebration in Washington on Armenian soil.
A happy May 28 to us all!
Author information
The post ARF Bureau Member Hagop Der Khatchadourian's Remarks at Armen Garo Statue Unveiling in D.C. appeared first on The Armenian Weekly.

Source: Armenian Weekly
Link: ARF Bureau Member Hagop Der Khatchadourian's Remarks at Armen Garo Statue Unveiling in D.C.